Ronnie's Radio Page
Nutty but Nice
Ronnie Remembers
BRAND NEW! LISTEN TO SHOW 9
SPECIAL PHONE-IN GUEST: TOM T-BONE STANKUS
(details below)
listen to Ronnie's opening comments
---
---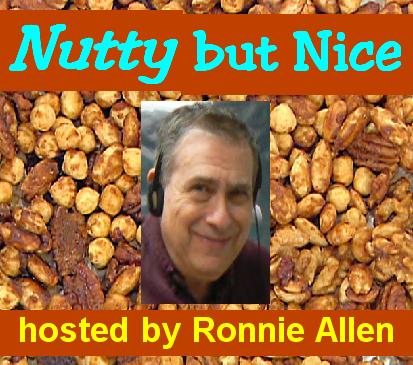 &nbsp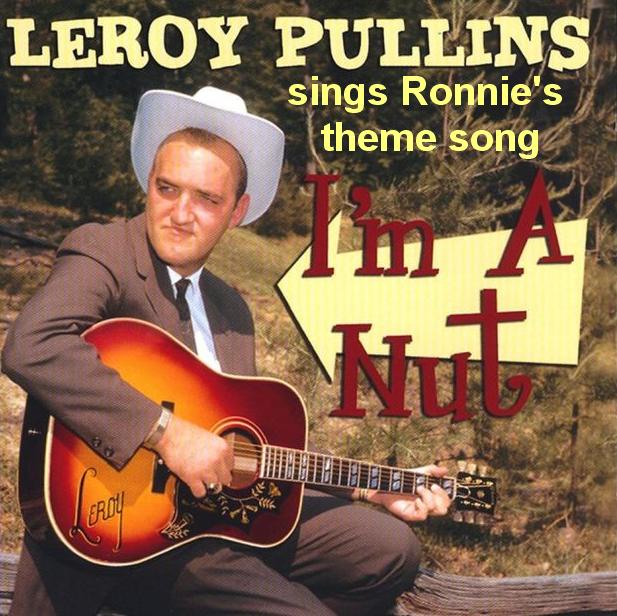 This show, hosted by Ronnie, features the craziest, wackiest, goofiest, silliest and funniest records ever made. The show is produced exclusively and occasionally for the Jersey Girls Sing website. A brand new show has just been released! It is Show 9 and it is and it features the first ever phone-in guest. You can listen to it by clicking the link below.



BRAND NEW! LISTEN TO SHOW 9
SPECIAL PHONE-IN GUEST: TOM T-BONE STANKUS


This Connecticut native wrote and sang the legendary "Existential Blues," one of the most popular recordings ever played on the world-famous "Dr. Demento Show." The delightful T-Bone shares the lowdown on the creation and history of this most unusual novelty song, which is then aired for the first time on an "NbN" broadcast. Ronnie thanks T-Bone for being the first guest ever on a "Nutty but Nice" show.


---

You can view playlists for and/or listen to any of the previous eight shows by using the archive links below.


---




View Playlists and Listen To Nutty but Nice Shows


-
SHOW 8 [view playlist]
[SWN (Spoken Word Nuttiness) Show] Al Kelly, Woody Allen, Mike Nichols and Elaine May, Stan Freberg, Lily Tomlin, Mr. Obvious, Jackie Mason, Foster Brooks, Rodney Dangerfield, Hudson and Landry, Richard Dawson, Gilda Radner, Pat Cooper, Bob Newhart, Abbott and Costello
-
SHOW 7 [view playlist]
["Double Play Day": two consecutive records by each artist] Mel Blanc, Don Bowman, Tom Lehrer, Groucho Marx, Teresa Brewer, Allan Sherman, Leroy Pullins, Spike Jones and his City Slickers (ft. Doodles Weaver), Rolf Harris
-
SHOW 6 [view playlist]
["Nutty Records From A To Z"] George Gobel, Tom Lehrer, Spike Jones and his City Slickers, Perry Como, Julius LaRosa, The Hoosier Hot Shots, Walt Kelly, Ben Colder, Teresa Brewer and Mickey Mantle, Stan Freberg, Homer and Jethro, Joe Perkins, Napoleon XIV, Jerry Lewis, Tom Lehrer, Carson Robison, Clarence Nash, David Seville and the Chipmunks, Homer and Jethro, Mrs. Miller, The Nutty Squirrels, Brian Wilson, Roger Miller, Charlie Weaver, Allan Sherman, The Monkees
-
SHOW 5 [view playlist]
Eddie Lawrence, Arthur Godfrey, Jerry Lewis, Rosemary Clooney and Jimmy Boyd, Kay Thompson, Frankie Laine and Jimmy Boyd, "Weird Al" Yankovic, Nervous Norvus, Gary Cane, Vaughn Meader, Deacon Andy Griffith, Betty Johnson, Jim Lowe, Jan and Dean, Ray Stevens, The Capitol Steps, "Weird Al" Yankovic
-
SHOW 4 [view playlist]
[SWN (Spoken Word Nuttiness) Show] Al Kelly, Professor Irwin Corey, Don Knotts, Bob and Ray, Woody Allen, Lily Tomlin, Roy D. Mercer, Hudson and Landry, Bob Newhart, Bill Cosby, Don Rickles, Lenny Bruce, George Carlin, Victor Borge, Jack Webb and Johnny Carson, Abbott and Costello, The Credibility Gap
-
SHOW 3 [view playlist]
The Animaniacs, Lou Monte, Tommy Cooper, Homer and Jethro, Pinkard and Bowden, Linda Laurie, Allan Sherman, Johnny Cash [2 records], The Mark IV, The Frantics, Benny Bell, Alanis Morissette [very briefly], [The Top 5 Putdown Records Of All Time], Ray Stevens
-
SHOW 2 [view playlist]
Napoleon XIV [briefly], Dr. West's Medicine Show and Junk Band, Rose and the Arrangement (AKA Possum), Weird Al Yankovic, The Coasters, Freddy the Flea, The Beatle Barkers, Mike Nichols and Elaine May, Dickie Goodman, Slim Newton, Wally Cox, Hudson and Landry, Wynn Stewart, Weird Al Yankovic [encore], Mark Russo, The Big Bopper, Meri Wilson, Benny Hill, Frank Gallop, Dick Feller
-
SHOW 1 [view playlist]
The Peels, Guy Marks, Stan Freberg, David Seville and the Chipmunks, Jerry Lewis, Frank Sinatra and Dagmar, John Sebastian [briefly], The Lovin' Cohens, (mystery artist), Sandra Gould, Jerry Reed, Eddie Lawrence, Benny Bell (Paul Wynn vocal), Mrs. Miller, Tom Lehrer, Sean Morey, Spike Jones and his City Slickers, Mel Blanc


---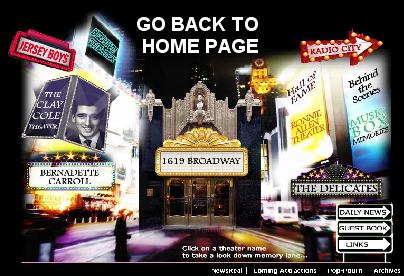 ---



RECORD PAGE | TRIVIA PAGE | SMALL TALK

BERNADETTE CARROLL | THE DELICATES | CLAY COLE



Behind The Scenes | Daily News | Guest Book | Hall Of Fame | Links | Music Box Memories | NewsReal | Precious Moments | Radio City | 1619 Broadway


---