Black And White Thunderbird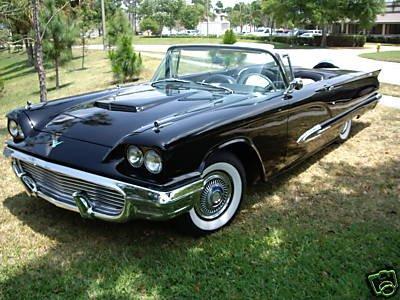 Beep Beep Beep .... please click me .....
The Delicates and the story of ... "Black and White Thunderbird" ..."

Back in 1958 I, along with my best friends Peggy Santiglia and Arleen Lanzotti, were in grammar school #8 in Belleville, NJ ..... after realizing how much we loved singing and writing together, we decided to write songs about subjects that were especially important to teenage girls. Boys, dating, and cars... we loved the Tbird, which was the car of the times....and there was nothing more gorgeous than a black Thunderbird with white leather interior...so with a few beep beep beeps and putt putt putts... "Black and White Thunderbird" was born. Over the years the song has been recorded by several groups. Disney/Pixar chose it to be included in the "Lightning McQueen's Fast Tracks" CD, inspired by the hit movie "Cars", which made the Billboard top ten on their Kids Audio chart. It was also included in a follow-up Disney/Pixar CD called "Buddy Songs." Both CDs were produced by Fred Mollin. "Thunderbird" has also been featured in videos,from a kindergarten class to a mid-60's British TV show: you can view those two videos below, along with a wonderful video created by our dear friend Sergio. I am so proud of that song...and how after 50 years it is still going strong......beep beep beep!

With love, Denise


Thanks, kids!!!
A tribute to the Delicates from our friend Sergio!




Here's the "Thunderbird" video from the mid-60s British TV show, which also includes "Fun Fun Fun" by the Beach Boys.



. . . .